September 2018, another incredible adventure for Children of Darklight. Almost 20 artists from different parts of the world joined us in a wonderful creative experience in the Sahara desert, not all of them lightpainter se , but with a great creative synergy that made this an unforgettable trip.
This article is a tribute to all the team that made this third LIGHTPAINTERS UNITED meeting possible, in Merzouga (Morocco), at the gates of the Sahara desert, and that you can follow in the hashtag #lightpaintersunitedmerzouga. Especially, to our host Cisco Lightpainting.
The team, baptized there as Cosmic Mafia, are: Kim Von Coels (GE/UK), Dave Knight (UK), James Bear (UK), Tibo Absurde (FR), Ghislain Decq (FR), Ruben Campos (ES), Sfhir (ES), Fella Malou (DZ), Djahida Malou (DZ), Malika Malou (DZ), Cisco Lightpainting (FR/MA), Sita Vilaça (FR), Mehdi Arrad (MA), Salim Boullali (MA), Raja Adanan (MA), Ly la Gazelle (CI/MA), Yassine Fetheddine (MA), Patry Diez (ES) and me, Frodo DKL (ES).
Something I am very happy about on this trip is having been editing a documentary video that showed, from my eyes, what we were living there. It is not therefore a quick summary, and for that reason I call it documentary. I hope it's not boring for you, and if it is, you can go ahead with the article and enjoy the images created there. In the video I include, chronologically, photos and many videos that speak for themselves, both by day and by night. A lot of light painting as well, and some video light painting. I also have the music of my friend Ravid Goldschmidt, whom I thank for letting me use it to ambient the video and take us with their vibrations to these places. A great gift for our memory, which will help to never forget those moments, and hopefully will transmit to you the peace and good energy that surrounded us there. I hope you enjoy it, and after the video, you can know a little more in detail what happened there, and visualize the images more closely.
The trip for Patry and for me began in Madrid, from where we flew directly to Marrakech, to meet Cisco and the rest of the team that were arriving little by little. We had time to take a walk around the huge souk of the city. At night, after a Couscous Party at Cisco's house with many of our future travel companions, we went to bed early because the next day we had to get up early, to take the bus that would take us to Merzouga, crossing Morocco and enjoying its landscapes, its Atlas mountains and its villages, for 12 hours. It was my second time doing this trip, and I knew how much it was worth it.
We arrived at Merzouga at night, at the gates of the Sahara desert, to stay again at the Auberge Camping La Liberté, where Mohammed and his family welcomed us with their usual affability, a good hot tea and a great dinner. I say again, because I had been in the same place 3 years ago with Cisco, and I could not pass up the opportunity to repeat.
That night we were exhausted, but after having a shower and soñé fresh air, Patry and I felt the need to go to that desert, which literally invaded the hostel. We took off our shoes, took just in case camera, tripod, 1 powerful flashlight for backlight (Led Lenser MT18), a couple of small flashlights, and a scanner to illuminate portraits, and a light tag by Edu Cajigal, and we went to the desert, to the silence of the night, feeling the sand under our feet, and under the moonlight. What an incredible feeling. We felt very fortunate, that was magical, and we were just beginning the adventure. It was inevitable to make some simple photos as memories, an omen of everything that we could create there thanks to such splendid locations.
The next day, the landscape exceeded by far our expectations. That was a paradise for light painting
During the day, life was very relaxed. No hurry, no obligations, everything flowed slowly, at his pace, and with very good vibrations. We pass the time in the hostel, having a drink, chatting, working on our things; walking through the desert; or walking around the villages, and some others also to surrounding villages. There were also many daytime shootings, thanks to the predisposition of models and photographers. Let's not forget that we were not just lightpainters here. Both Rubén Campos and Ly Lagazelle are professional photographers where traveling is one of their targets. Kim did lots of photos with several cameras, and Cisco and Tibo with their analog cameras.
At sunset we prepared for dinner. Dinner was served every day at 9:00 p.m. by Mohammed and his family, time when we all met, chatted, and get ready for the night sessions.
On our second night, Sita Vilaça wanted to do a UV make-up test thinking about the full-body bodypainting that she would make on Patry the next day. The "test" left us all really amazed, that was incredible, and in our mind there were impressive lightpainting ideas of what we could create later:
After this session, obviously we did not stop, there was still a lot of night ahead. Our next stop was with the rest of the group, and Fella and Cisco made us this beautiful lightpainting, where you can see Patry and I with a super precise Arabic calligraphy of our names. Another unforgettable memory, thank you.
That night I also took another photo that I love, because I looked for it and I got it. I was looking for something like that, with a nice desert landscape, and a sharp line of a perfectly drawn dune that would lead to a small character in the distance. I found it, and I tried so hard to get this one, that I got my twin injured … but that's another story.
At the end, we could contemplate another stunning view, the moonset on one side, and the sunrise on the other.
The next day the weather was great. We were able to share good times with Rubén, Ly and Dave who did a photoshoot to Kim in the dunes, and meanwhile our colleague Sfhir was already working hard on his big painting in the village, a double portrait of our host Mohammed. Sfhir always surprises us, his talent drives everyone crazy. Armed with a pole that he built by joining sticks, a few colors with which he managed to mix and create his color palette, and a pair of rollers, he gets what just few others could get, wait to see it finished and you'll see.
We were looking forward to the next night. Sita was going to make on Patry a full-body UV bodypainting and we were going to go to the desert to take the pictures. After the dinner the process began.
The results were spectacular from the first moment, and as the make up process was going to take a while, I used that time to make a photo session with Kim, with which I am very happy. Such a great model Kim, so slender and how well she plays the modelling rol. A pleasure to take photos to her. In addition, I found a comfortable and perfect spot in the same hostel, where I quickly knew how to get the best of it:
Once Sita had finished with Patry, if the previous day she had amazed us, then she left us stunned. The transformation was incredible, Patry did not look like Patry, it could be any being from any other galaxy, with an indescribable beauty, and a hypnotic attraction. She was a light being, and it was time to take her to the desert and begin the shooting:
As you can see, after the desert, we ended up doing the last portraits in the same arch where I started the night with Kim, until the first light of the Sun marked the end of our journey. A huge pride to work with Patry as a model, she endured hours and hours between makeup and modeling stoically maintaining the composure as a great professional, despite the cool of the night. Great work of her that I do not want to go unnoticed.
That night we went to bed exhausted. The next day, to our surprise, the weather was not looking so good. A sandstorm and an electric storm approached to us.
But who said fear? Before dinner, we were able to entertain ourselves a little with the rays:
And after dinner, given the unstable weather and the intermittent rain, we decided to stay at the hostel, in its beautiful courtyard, all but Sfhir who, against all odds, had to finish his mural that night. Sita began to make a bodypainting to Fella, and the rest of us looked for our spot to create. I repeated that arch that I loved …
While Patry was preparing a new outfit, I started to make portraits of Mehdi, a young Moroccan lightpainter, and in one of them Raja also joined us.
I continued with Patry, my muse, with another great stylism enhanced with a long white wig. I feel enchanted and highly inspired portraying her. In the end Cisco joined us to collaborate, you can clearly see his Arabic style in the light design.
I take the opportunity to ask for your opinion about the following photo, do you like vertical as the others? Or horizontal, highlighting her eyes? Do not hesitate to leave a comment with your opinion, it will be very appreciated.
The next person to join me in the spot that night was Raja, and the Cisco to make a portrait together. I was also very happy with this mini session, especially with the last one of this batch of photos.
Then I had to portrait Cisco, a big challenge because his portraits are always exquisite. Its Arabic style, its fluid light trails, its precision, its texture of light … a wonder to behold. I leave here also the portrait that he made to me, another great memory.
Patry did not only do styling and modeling, but also she didn't miss the oportunity for light painting. Now I have 3 more portraits as memory made by her.
If you think this was enough for us… it wasn't. Sita was still working on Fella's bodypainting, and we had scheduled a meeting with Sfhir in his mural at 3 am, so we still have some free time and Patry and I started a short light painting stop motion animation, which you can see in this animated GIF: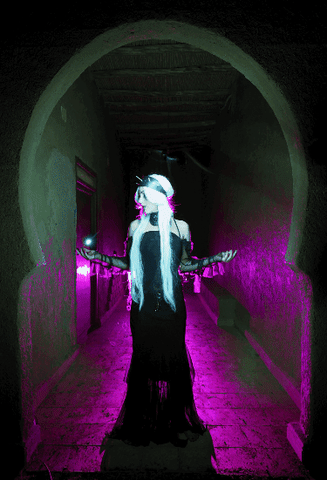 In these precise moments it was raining cats and dogs. Until then, it doesn't rain a lot and I was quite calm with the camera, because my Olympus OM-D E-M1 MrkII is water resistant … but that was far from being a light rain, and I had to cover the camera as I could with a plastic, and clean the water drops from the lens often, to be able to finish. There were 17 photos in total.
By then, Sita had already finished making up Fella, but we were late for our date with Sfhir, and there were already people taking pictures to her. So we left the hostel to see Sfhir finishing the last details of his art piece, and if possible make him some portraits there. It was 03:30 am in the morning and Sfhir would take a taxi at 05:00 am for going to the airport. We didn't have too much time, we had to be very efficient!
Somewhere among the sand of the desert, the Sun and the Moon make the dance of eternity, that is the inscription in Sfhir's graffiti, in Spanish on one side and in Arabic on the other, night and day, the moon y el sun. A great representation of our host Mohammed, on the way to the hostel. At this point we finished the work by that night, since on our return Fella had already retired to sleep, because that night was colder than the previous nights. If you want to see the results of her bodypainting, you can see it in the video.
The next day was pretty quiet. We were pretty tired and the weather was quite unstable. We took the chance to walk through the town, we bought a few meters of fabric to make turbants and some other souvenirs … and at night we went to a spot which some trees were located and without being too ambitious with our creations; just hang out and if a good photo comes out, that would be more than fine.
I started with Fella's sisters: Djahida Malou and Malika Malou. A very wide angle, composing the two models with the two trees in my frame. Patry helped me with the backlights, and we took these photos:
That night, Kim was wearing a skeleton body, and Sita had made her face and arms bodypainted completing the skeleton. Again, a great job of our French make up artist. It was a shame that, unexpectedly, it began to rain cats and dogs and the session was totally truncated. We could only take this picture with her, and for you to see that I'm not lying, look at the rain behind her in the backlight.
We picked everything up quickly and took shelter under the tree. The storm passed quickly and the plan changed radically. Mehdi took care of making a bonfire and some of us gathered around it, listening to relaxing music, enjoying the moment, while others keep on light painting once the rain stopped. The truth is I did not feel like taking all out and starting again, I was very tired and still with my leg injury. So the heat of the fire seemed like a good ending for that day.
The next day we were very rested. During the morning, we enjoyed the company of Ghislain Decq, who showed us his little pieces of art: handmade wooden lanterns that he makes by himself. Authentic jewels, collectibles that one day could be in a museum of light painting. I recommend you to watch them in the video if you want to have an idea of what I'm talking about.
In the afternoon, Rubén made a photoshoot to Patry in the dunes … and finally, just before sunset, we started an expected dromedary trip to the Great Dune. Another incredible experience, all in caravan through the desert, moving us to another era.
Then it came the climb to the great dune. Something we did not do in one time, and I was still injured. But with some quick pauses to recover, we managed to make to the top and enjoy some incredible views, and a sunset that we will hardly forget.
When we came down from the great dune, the night has come. The dromedaries were waiting for us, and we headed home. The caravan moved slowly through the night, in mysterious and stealthy ways, under the moonlight.
It was our penultimate night there. After dinner, I wanted to make a portrait to my friend Rubén, and right behind the hostel, I made this lightpainting with Patry's help, which I love because the same day I injured myself looking for the perfect picture I saw it in my head, because I managed to get what in my mind was picturing: I wanted to line up the three flash lights with the moon and its halo. I hope you like it:
After this image, we joined the rest of the group, because Kim was directing a picture composing all of us in it. You can see it at the end of the video. That night we all stayed close. I chose my spot and I enjoyed myself making portraits to my colleagues.
I started with the "dark knight", Dave Knight, who posed very well, with his character, and really motivated. So it was very nice, and I did some portraits with lots of light trails, very in my style. I particularly like the one with the torch . The backlight creates the effect of being the torch itself lighting the ground. I love these small details, altough I do not always look for them, and I should.
Yassine Fetheddine was my next model. Another young and very creative Moroccan lightpainter.
Another good contribution for my lightpaintings was to have Fella Malou as a model. She is Algerian, lightpainter, expert in calligraphy, with few years of experience in LP but already with huge skills and lot of potential, entering in grand style in the world of light painting. As a model it could not be the other way, her features and her look are so beautiful, and the responsibility to do some good work with her was greater.
Then they came to my spot Tibo Edrusba, James Bear and Ghislain Decq. I was not aware that they were going to leave the next day in the morning, so I only had the time to take this pair of portraits to them.
While I took a rest, Patry felt like doing her own lightpainting, just her by herself. She took the camera, looked for another spot, and she came back with this beautiful photo, a tribute to our group, enjoying the creative synergy that surrounded us in those enviable lands, filling me with pride.
In the darkness, in that sea of dunes, under the moonlight, I began to see a serpent of fire in the distance, which was approaching us. There was no fatigue, there was no pain, there was no hurry … I had to capture that in my lightpainting. So we exposed the photo for 1 hour to get good startrails once the drawing was done:
That was my farewell for that night.
The next day, it was already the last one. Many of us had already left and we were beginning to miss them. In a moment of leisure, as some of them showed a lot of interest in my tools, I took advantage of my condition as Light Painting Paradise ambassador to make them a showroom and show them all the new tools they offer us: the great variety of adapters, plexytubes, plexyrods, tagger, etc. I should have done it the first day, because they were all delighted!
The next morning we would get up very early to travel back to Marrakech, so that night we were not very ambitious with our lightpaintings, and we tried to be relaxed, in another nice spot. A location where I had already worked 3 years before, with some trees and 2 palm trees, all together, and where we had at least 3 points of view for shooting. Patry and I had already gone there that afternoon, to enjoy our last sunset in the desert, and thinking about that it made us sad.
I did not want to leave from Merzouga without some DKL tags and Merzouga postcards:
I also took some more portraits to Mehdi, where I took the opportunity to try new effects with Light Painting Paradise tools, that we had mentioned during the afternoon.
I also took the last portraits to Kika and Rubén:
But my favorites of the night, were the last two portraits I took to Patry. In one of them, she is sit down, quiet, gazing at the infinite, while the light traces lines in front of her under the moonlight. In the other portrait, she is wearing a bright new light dress under a startrails. This time it was created with the double flat adapter, which allows us to use two simultaneous plexyshapes, giving a touch of color and more texture to the light. It was a first attempt, and surely I could have improved it, but we were already in extra time, and what it is, is what I got.
We have gone through many things in this trip. Many of them are feelings that take you away from the civilized world we are living. There is much to learn here, and you realize the things that are truly worthwhile in life. You think about many things here. There is much to learn, and there are many things that should not worry us as they do. You feel the energies and vibrations of places and people. You see how happiness has nothing to do with money or having everything you want, by the way maybe is just the opposite. And I can say that you do not stop learning and growing while traveling. Every trip I made to Morocco something changes or strengthens inside me. As once Ishmael, son of Mohammed, told me: You have the watches, we have the time.
Thanks to Mohammed and his family and the Auberge Camping La Liberté. They took care of us, fed us, share with us, as if we were from his own family. We felt like at home. We won't forget you, and we will meet each other again for sure. We will lightpaint again in your paradise, barefoot in the desert, under the moonlight. Inshallah. Thanks for everything. You are light. Tanmirt.
Another great image created by Patry in gratitude:
In the next morning we said goodbye to such adorable hosts, with a huge sadness for leaving, and really wanting to cry. I knew it was not the first time and it won't be the last time we meet them. This little light painting paradise will be there for us again.
I thank again the entire COSMIC MAFIA team because each and every one of you were perfect adventure companions. Kim Von Coels (GE/UK), Dave Knight (UK), James Bear (UK), Tibo Absurde (FR), Ghislain Decq (FR), Ruben Campos (ES), Sfhir (ES), Fella Malou (DZ), Djahida Malou (DZ), Malika Malou (DZ), Cisco Lightpainting (FR/MA), Sita Vilaça (FR), Mehdi Arrad (MA), Salim Boullali (MA), Raja Adanan (MA), Ly la Gazelle (CI/MA), Yassine Fetheddine (MA), Patry Diez (ES) and myself, Frodo DKL (ES).
I also want to thank Cisco again as organizer and coordinator of the meeting. Also to my sponsors, who accompanied me on this trip: @LightPaintingParadise, @esOlympus, @MatteriaCreativa, @nubiasmartphone, @LumiPopFR and @LedLenser. All my lightpainting images in this report were made with Olympus OM-D E-M1 MrkII. Real time video light painting were made with nubia Z13. Talking about light tools, I work with Light Painting Paradise, LumiPop, Edu Cajigal, and other custom tools. Most of my flashlights are Led Lenser, I used specially H7R, H14R, MH10, P2, P7QC, M7 y MT18
But my most enormous thanks are for life, for letting me share these experiences as a team with Patry, letting our creativity take us through these special places, and live such enriching experiences. Thanks Patry.
If you have read up to this far, I hope you have enjoyed it, and I hope I have transmitted you in some way the great energy, good vibrations and all the magic that we lived there.
If you want to see the Flickr album, click here. Do not hesitate to leave us any comments with your impressions.
Frodo DKL
---
---
You might also like
---